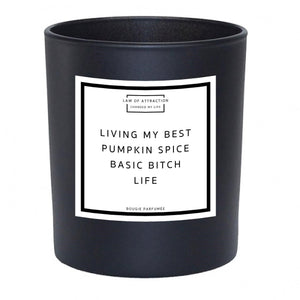 What's a basic bitch's favourite season? Pumpkin spice season of course! Indulge in your most pumpkin spiced autumnal fantasies with this limited and exclusive range of our ever-popular manifesting candles.
Pumpkin Spice - rich, creamy pumpkin spiced with lashings of cinnamon, nutmeg, clove and ginger - the essential Autumnal fragrance
Our soy wax candles burn evenly, with a burn time of up to 45 hours of blissful fragrance.
Made from 100% natural soy wax, blended with the finest fragrance and individually hand-poured right here in England, our soy wax candles burn slowly and evenly and are available in black glass vessels.
Burn slowly and evenly, giving you hours of gentle fragrance.
Candle Care
Burn it until the entire surface of the candle melts
Should black smoke appear, trim the wick it should be no longer than 10mm at all times
Should the wick need centering, then you can do so gently by readjusting it while the wax is still molten. Make sure that you allow the candle to solidify before re-lighting
Never leave a candle unattended, or in a draft. Keep out of reach of children and pets.